The Latest
What Prompted This Flight Crew To Duct Tape A Passenger To Their Seat Is Absolutely Wild…
Flying in the past few years has been a pain in the butt on multiple levels, and people as a result have had a harder time lowering their temper when they are on a plane..
Having a panic attack on a plane can be very frightening. Even if you don't necessarily have a fear of flying, there may still be factors that contribute to panic attacks in these types of situations. Especially, when something terrifying happens in the plane you've been riding.
Despite that, it may seem normal to have panic attacks when things go wrong, but allegedly trying to open a plane door of the aircraft in mid-flight is not something you would do.
There are a few reasons why it is impossible to open an airplane door in midair. First of all, it's locked. Physics, however, is a significant additional component that "The Twilight Zone" appears to overlook.
But several factors, including automated locks and the tremendous air pressure outside the plane, make scientists conclude that this is physically impossible.
"You see that great big handle on the door – that's actually locked shut," says Steve Wright, an associate professor of aerospace engineering at the University of the West of England. "When the plane touches down and is taxing to the gate, you'll hear the pilot say "doors to manual." It's only at that point where the pilot has handed off control, and where those doors are actually capable of being opened by someone standing near them."
Let's say that, somebody did indeed manage to open an aircraft door during a flight.
Well, the air pressure outside decreases with altitude, additionally, breathing becomes more difficult when the air pressure drops. That is because as you ascend, the air becomes thinner. In fact, the molecules are farther apart. As a result, each breath you take contains fewer oxygen molecules and there is less pressure to push that oxygen into your bloodstream.
In other words, the door opening would cause a rapid decompression that would depressurize the plane cabin in a matter of seconds, causing a strong suction pull. This strong suction pull would cause all loose objects to be sucked outside the plane, including people who aren't buckled in.
As we can imagine, no, passengers would likely not be sucked out of the cabin like in some kind of disaster movie.
However, gagging and taping an air passenger for allegedly trying to open a plane door and biting cabin crew in the middle of a flight seems a bit too much, now that the restrained passenger - who has not been identified - is thought to have suffered a "mental health episode" about two hours into the three-hour trip.
Of course, anyone could have their "Mental Breakdown" when you know something's wrong happening in the plane.
The incident occurred on American Airlines Flight 1774, as the plane flew from Dallas-Fort Worth to Charlotte, North Carolina, on July 6, 2021. The woman allegedly tried to force open the jet doors and bit flight attendants. User @lol.ariee posted a video of the incident on TikTok before removing it.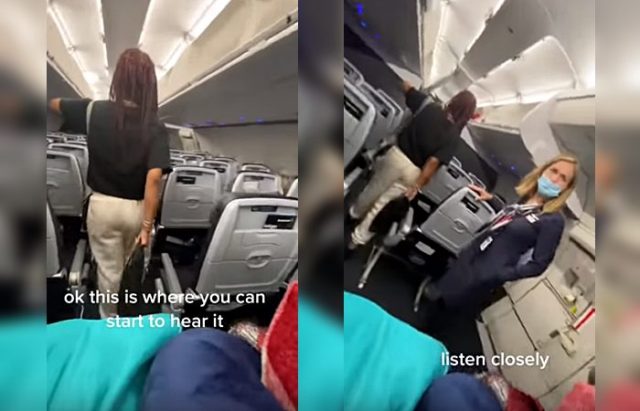 In subsequent videos, @lol.ariee describes how things got out of control an hour into the two-hour flight on July 6 from Dallas-Fort Worth to Charlotte, North Carolina. She said, describing how the flight attendants were hurriedly moving up and down isles, closing toilets, and taking luggage from overhead drawers, "It was just kind of like chaos and no one knows what's going on."
According to @lol.ariee, the pilot soon declared that there was "a bad situation on the plane right now." Then, when the number of screaming increases, we start to think, "Wait a minute."
Someone "had an outburst and like, had the want to walk off the plane," a flight attendant subsequently remarked, @lol.ariee said. She ran up to the exits and began knocking on the doors, yelling, "You need to let me off this plane!" as she kept repeating,"I need to get off this plane!"

The flight crew had to "physically take her down" at this point and force her into a seat. "They pretty much took her own, put her in the seat and duct-taped her," @lol.ariee added.
The woman had to be detained, according to American Airlines, "for the protection and security of other guests and our personnel." The airline also mentioned that the woman assaulted and bit a flight attendant after she "attempted to open the forward boarding door".
The woman was then put on the airline's "internal" no-fly list and handed a massive $81, 950 fine (almost 1,2 million) for her unruly behavior.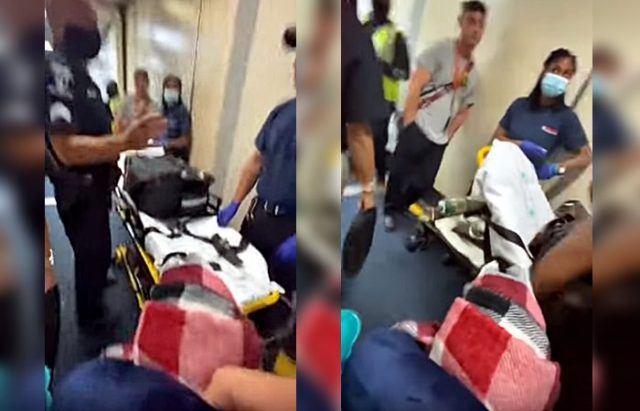 Watch the video below:
Sources: Taphaps, Distractify, ladbible