The Latest
What One Woman Handed To The Police Had Her Arrested Immediately…
Sometimes people get arrested for the most ridiculous of things, things that even though I support law enforcement make you think that maybe they take the law too literally sometimes...
A Florida woman's arrest on theft charges for handing the guns of her allegedly abusive husband over to police has become a flashpoint in America's ongoing gun violence crisis.
Her husband was under arrest for domestic violence charges, accused of ramming her car with his when the woman brought his guns to police.
After their divorce hearing on June 14, Courtney Taylor Irby and her estranged husband got into an argument. She got in her car to drive away and called 911, saying she feared for her life, police wrote in an arrest affidavit for her husband, Joseph Irby.
While on the call, her husband allegedly rear-ended her bumper multiple times, according to the affidavit.
Courtney had obtained a temporary injunction against her husband, Joseph, 35.
Police had originally charged 32-year-old Courtney with armed burglary and grand theft after she took her husband's guns from his home and gave them to police. She spent six days in jail on the charges.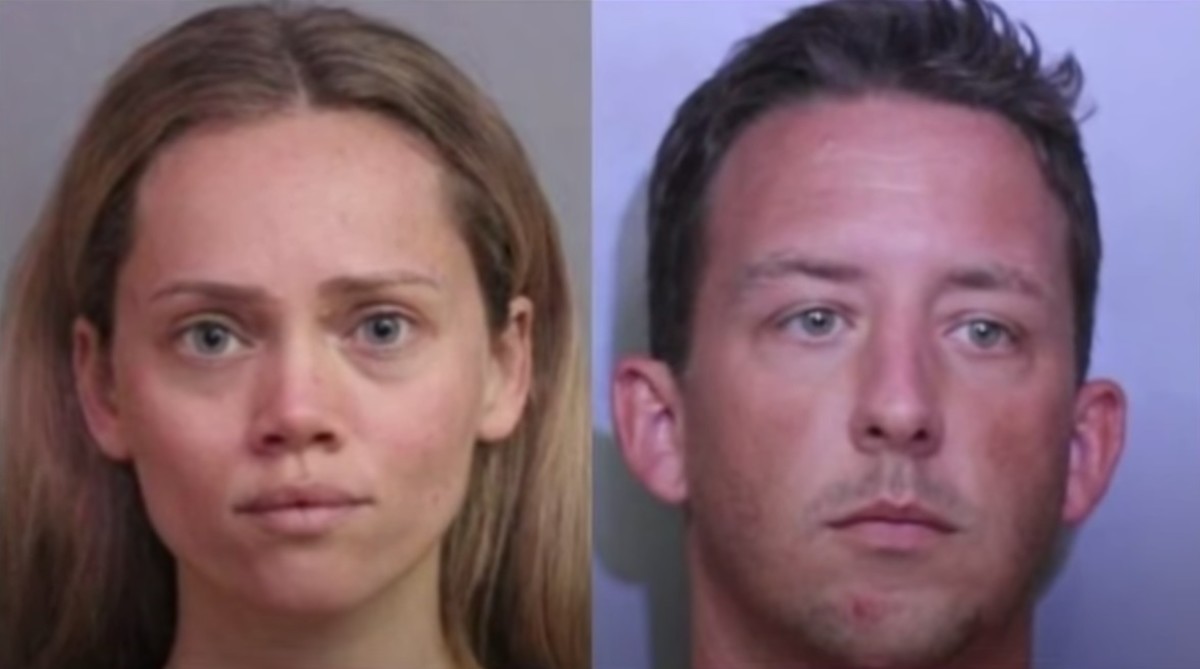 When an officer questioned Courtney about how she obtained the guns, she told him, "Well, he was arrested yesterday for trying to run me over with his car, and he is now in jail. So I went to his apartment since he is in jail and I searched his apartment for the guns I knew he had and I took them."
The officer, Brent Behrens, stated that he proceeded to question her to confirm that she entered Joseph's home without his permission. "So you are telling me you committed an armed burglary?" he said.
"Yes I am, but he wasn't going to turn them in so I am doing it," she then responded, according to Behrens.
Courtney proceeded to tell Behrens that she has a temporary injunction against her ex and that she knew he would not turn in his firearms himself — as reportedly mandated by a judge.
Courtney's arrest sparked outrage and criticism that it would discourage victims of domestic violence from going to the police.
State Attorney Brian Haas said the case was about "a highly contested divorce, escalating to the point of husband and wife being charged with crimes," the AP reported.
Lakeland Police Chief Ruben Garcia said following an outcry on social media after her arrest:
"We have to safeguard every citizen's rights. When a case is brought to us, we have to look at all sides of the cases and come to the fairest conclusion we can for everyone involved." 
State Rep. Anna Eskamani tweeted a statement reading:
"We want domestic violence survivors to trust law enforcement, and to feel comfortable reporting a crime. As Mr. Haas mentioned in his remarks we can always do better when it comes to supporting survivors of domestic violence. I'll add that we each play a role in community safety, and empowering those who so often do not have a voice."
Andrew Warren, a State's Attorney in nearby Hillsborough County, also criticized the arrest on Twitter, writing:
"Courtney Irby's arrest is a disgrace. In @HillsboroughFL, we disarm domestic abusers who have legally forfeited their right to having a gun, and we always stand with survivors — not arrest them."
Watch the video report below for more details:
Sources: OpposingViews, CBS