The Latest
Hateful Kroger Cashier REFUSED Service To A White Customer Who Was Wearing A….
Before continuing with the rest of her list of tasks, a woman in Spring, Texas hurried into her neighborhood Kroger to pick up a few essentials. However, as simply as she had hoped, things didn't go as it was intended to, because of a particular employee who found her repulsive and remarked that "she was sick of dealing with people like her," after taking one look at the shopper, the woman was then refused service by the cashier!
According to ABC 13, Meredith who claims she did not want her last name to be made public said that a Kroger cashier refused to ring her up because of her "police lives matter" shirt.
Meredith said that when she had completed her shopping list and was on her way to the front-of-the-store register. She then quickly discovered that the Kroger cashier had no plans to ring her up when she placed her purchases on the conveyor belt.
"She made me feel ashamed to have the shirt on and I don't appreciate that," Meredith told ABC 13.
Meredith who wore a shirt with a statement that said, "Police Lives Matter," with the words "All Lives Matter" underneath claimed that a teenage cashier saw her shirt and walked away from the checkout line. Meredith said she overheard her telling a coworker that Meredith's shirt "was basically a slap in the face to her," and the clerk "was doing everything she could not to cry."
"She was stating that the shirt I had on was basically a slap in the face to her and she was doing everything she could not to cry." she said.
Meredith claimed that she spoke with Kroger about the incident several times but has only received verbal assurances that they will investigate her worries. However, for the same reason, Meredith was denied service.
This wasn't the first time Kroger has been accused of turning away a paying customer, similar to a woman who also ran into trouble in September 2016, when Walmart bakery employees refused to bake a "Blue Live Matter" cake for her, saying that the message could be seen as racist.
It happens that Meredith's husband is a Police officer and that Meredith was wearing her blue t-shirt that simply said, "Police Lives Matter, All Lives Matter," for a reason.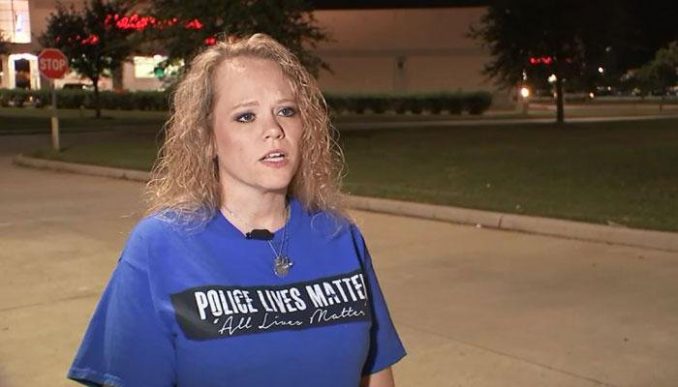 The incident has led the Blue Bow foundation, which works to support police officers and their families, to sever ties with the grocery chain as the acts of this employee angered Kimberly Colley, the executive director of the Blue Bow Foundation, but what really infuriated her was how little Kroger had responded. When Meredith immediately informed Colley who provides assistance to police officers and their families, about what had occurred to her there after she had left the business.
Colley claimed, as reported by KMOV. She continued by saying that her nonprofit organization, which had previously supported the store, had severed all relations with it.
"Our husbands risk their lives every single time they put on those uniforms, they're walking targets and this is the least we can do to show there is support out there," she said. "We don't want to do business with them if that's how our citizens are going to be treated."

"It's important that people in the service industry know that no matter what, if someone walked in with a Black Lives Matter shirt on they needed to still be serviced," Meredith said.
Well, any company doesn't deserve the protection they rely on from law enforcement when called upon, when they even don't support police, and especially when they go as far as to kick them or those who support them out of their establishment.
Watch the video below for more details:
Sources: Taphaps, Tacticalshit, Abc13