The Latest
An Old Man Called 911, Then The Authorities Saw His Kitchen And…
Imagine being completely alone, seemingly forgotten, and without anyone to turn to for help when you most need it.
For many older people who don't have close friends or relatives to drop in and help with the things they can't do, that is the unpleasant reality. Some people even forego essential requirements because they are unable to pay for them. Louis endured this for a while before sympathetic police officers intervened.
92-year-old World War II veteran Louis Hicks of Austin, Texas, recently learned that someone had been taking tools from the shed behind his house. When he dialed 911 to report the theft, Austin Police Department officers arrived.
While helping Louis file a report, Officer Chastity Salazar noticed something after she entered the residence that would take a BIG turn for the old man. Louis knew at that moment that he couldn't conceal what was going on in his kitchen after Salazar insisted on taking a look around Louis' home. And after she saw what she needed to see, Salazar promptly left.
Officer Salazar noticed danger in Louis' kitchen. The officer was quite concerned for his safety after she noticed a small fan in front of Mr. Hicks' gas-powered range and knew that the veteran was utilizing his stove and oven to heat his frigid residence. The fan would pump hot air into Mr. Hicks' living room after turning on the kitchen equipment.
Louis served his country by fighting in World War II, but when it came to taking care of himself, he was just too proud to ask for assistance. Fortunately, Salazar recognized the warning indications of someone in need of assistance and decided to act right away.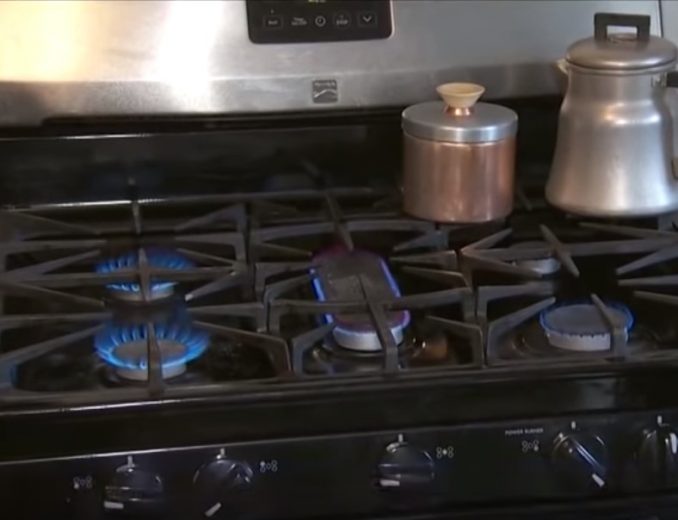 That's when Salazar decided to call her colleagues, who then got in touch with local charity organizations. With the help of Austin Cops 4 Charities, Austin Police Association, and St. David's Foundation, she returned to his home with a few other officers in tow. Louis was overcome with emotion as they presented him with a brand-new electric heater.
Officer Salazar said, "That's just what we do as police officers. I had realized that he's using the oven. I know that's not safe. His gas is on."

"I've never had no one to do nothing for me. After my mother passed away and left me to take care of my two sisters … nobody never did nothing to help me," Hicks said with a shaking voice, trying to hold back tears.
"You hate to ask anybody 'cause sometimes they'll frown on you, and I'm a true veteran. I won't ask. I won't ask," Hicks said. Hicks had been using an outdated heater before switching to his gas range. He stopped after it burned a hole in the floor and started using his stove and oven as a heat source instead.
"He's just offered me a lot of kindness, too, so to know that he's also served, and now I'm able to serve and give back to people like him," Officer Salazar said, according to KVUE. Not just Hicks profited from the experience. Officer Salazar is appreciative of the chance to help a man who has given his country's service.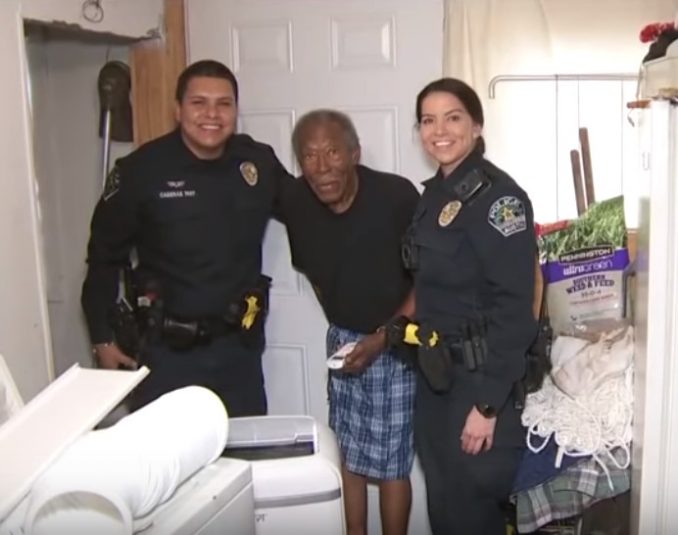 The elderly veteran will be able to sleep warmly and securely thanks to these two Austin police officers and a number of organizations, but their generosity didn't stop there.
The Austin police made a list of Mr. Hicks' additional needs demonstrating that they are also all about service to others. The community jumped in right away, and someone even brought him lunch, coffee, and treats from Austin's Tiff's Treats bakery.
A GoFundMe was started for Louis Hicks, and in just two weeks, it had amassed over $10,000. The veteran is naturally appreciative of everyone's generosity. Additionally, Austin Cops for Charities mentioned that they still have about 10 heaters to give away, urging individuals in need to go to AustinC4C.com.
Explaining that the help he had long hoped for "just came in," Hicks said, "It means everything. The things I've been trying to do since the '40s."
Watch the video below for more details:
Sources: TapHaps, KVUE, AustinC4C.com